Generating leads is a curiously missing strategy for most eCommerce brands. Oddly, most brands focus 100% of their marketing budget and efforts toward converting cold traffic or retargeting audiences. It's a flawed approach. The brands that know how to scale diversify their strategies. They understand that building their email list and nurturing leads is a key to profitable growth because email can and should account for 35-40% of your revenue.
Here's a step-by-step ecommerce lead gen strategy to help you scale by generating leads for less than $0.10—plus a whole lot of free impressions that will drive direct sales.
Create an offer that appeals (only) to your entire target audience.
Make the offer a good one. Try a giveaway. Don't offer any of the products or services your company sells. That'll be later. Instead, aggregate $100 to $3,000 worth of free stuff that your target audience persona would love.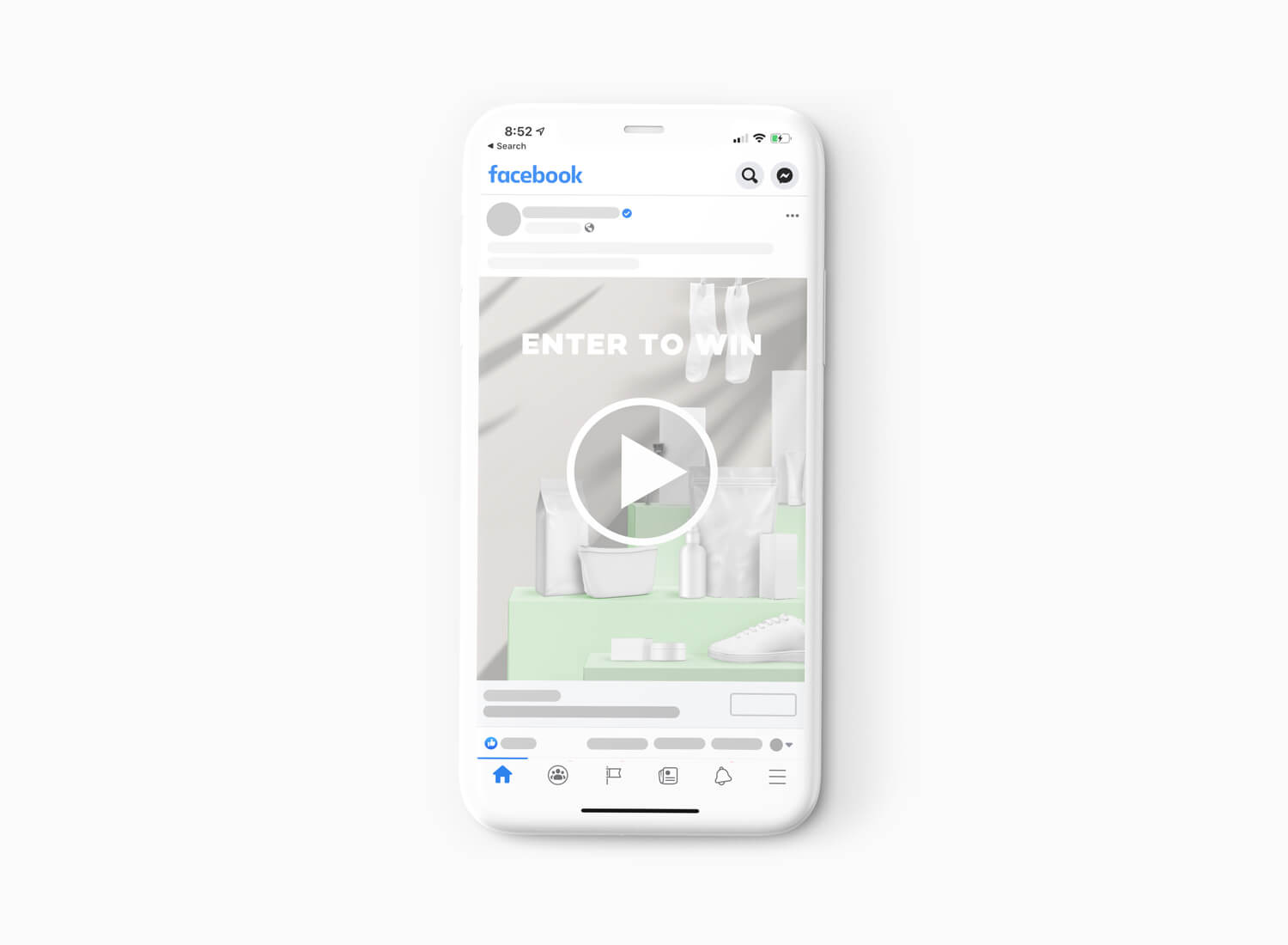 For example, if your brand sells premium coffee, then you could give away a pour-over set, a high-end burr grinder, a scale, and a unique mug. If your brand sells dog treats, you could offer things to find dog owners—like, a chance to win a free subscription to Bark Box, free dog vitamins, or free socks with their dog's face on them.
You're aiming to attract 100% of a target market and then sell a fraction of them on your brand later. In reality, only, say, 5% of the leads may need/want your product and convert to a sale, but that's ok. We'll be getting leads for so cheap that the math will work. You'll often hear marketers scoff at giveaway strategies, saying, "the leads suck and convert like crap." They're not entirely wrong, but this strategy accounts for many junk leads—it's expected, and we'll deal with it. If you do it right, you can still scale this campaign.
Create a lead gen ad on Facebook.
Use a lead gen ad to avoid having to build a landing page. Plus, it'll load faster than just about any page on your site. The other perk is it'll typically be auto-populated by Facebook, so you'll maximize conversion rates. Ask for minimal information at this point—name and email, max. 
We recommend creating a video ad for this to make it very clear what you're giving away without a landing page. Here a few quick tips for creating an effective video:
Set up the lead gen ad to funnel data directly into a list on Klaviyo.
You can have your Facebook Lead Gen ads send data right to a list in Klaviyo. You'll use this to trigger follow-up nurture emails. This is where the magic happens.
Create a confirmation email designed to get people to enter for extra contest entries by engaging with the ad and your Facebook page. Make sure to link directly to the ad to make this easy.
Do not ask for people to comment or tag friends in the post or ad itself. Facebook does not allow this and will penalize your page for it. Only do it from a tool outside of Facebook, like Klaviyo.
We've had the best success asking them to:
Comment on the original post on Facebook

Comment on the original post on Instagram

Message the Facebook page, which adds them a ManyChat list
Email 1
Timing: immediately after subscribing
Message: Confirm their entry. Big CTA with instructions to get more entries.
Email 2
Timing: 1 day after subscribing
Message: don't forget to get more entries
Email 3
Timing: end of the giveaway
Message: we have a winner, but you've unlocked this offer
Each time someone engages with your ad, it'll be shown to their network of friends, giving you tons of free impressions and leads. Because of this, you can generate leads for less than $0.10, which makes the whole strategy work. You see, a conventional "good" lead gen campaign will generate leads for $0.30. Most often, it'll be closer to $1. And because these leads usually have a low rate from conversion-to-sale, the math never works out for a positive ROI.
Create an email sequence to convert leads into customers.
Create a series of emails to be sent after the confirmation email that persuades people to purchase your products. 
Because these people haven't won and were looking for free stuff, you'll want to position these emails to give them more than they thought they were going to get. Always remember, they're still hoping and expecting to win stuff for free. Steep discounts on your products can work, but what's better is a limited-time exclusive gift with purchase.
Create a flow of at least three emails, each with increasing urgency for them to get a different offer. After someone signs up for your giveaway, we recommend an email sequence like this:
Email 4
Timing: 3 days after subscribing

Video explaining benefits of your brand
Email 5
Timing: 4 days after subscribing
Message:

countdown timer with limited-time exclusive gift with purchase 
Email 6
Timing: 5 days after subscribing
Message:

countdown timer with 1 day left for an exclusive gift with purchase 
You could stop there but don't.
Here are some more advanced tactics to get the most value while avoiding common issues. Or, you could get a free marketing plan and see how we'd do all this for you.
What To Do With Your Leads
Even if folks haven't converted (yet), the list is still valuable. Here are a few things you should do:
Avoid the most common mistakes. 
One of the drawbacks of running giveaways is that it floods your site and email list with low-quality people. This can tank your overall email performance, trash your email sender score, and ruin your retargeting audiences. Yes, it can be bad. And it's one of the most significant objections you'll hear about a giveaway strategy. But it's easy to avoid. 
Use the email list in Klaviyo for more clever retargeting.
Remember, anyone who signs up for your giveaway will be in a Klaviyo list dynamically synced to Facebook Ads Manager. Add this list to your exclusions in some of your retargeting ads. This will prevent the low-quality traffic from ruining your regular retargeting campaigns. 
For example, if you're retargeting all website visitors, you may want to exclude the giveaway list to avoid a hit to that campaign's performance.
Segment your email list by engagement.   
Create list segments in Klaviyo based on how engaged people are with your marketing. The most important one is called Dead Weight. This weeds out anyone who's not engaging at all and just costing you money. Here's what it looks like: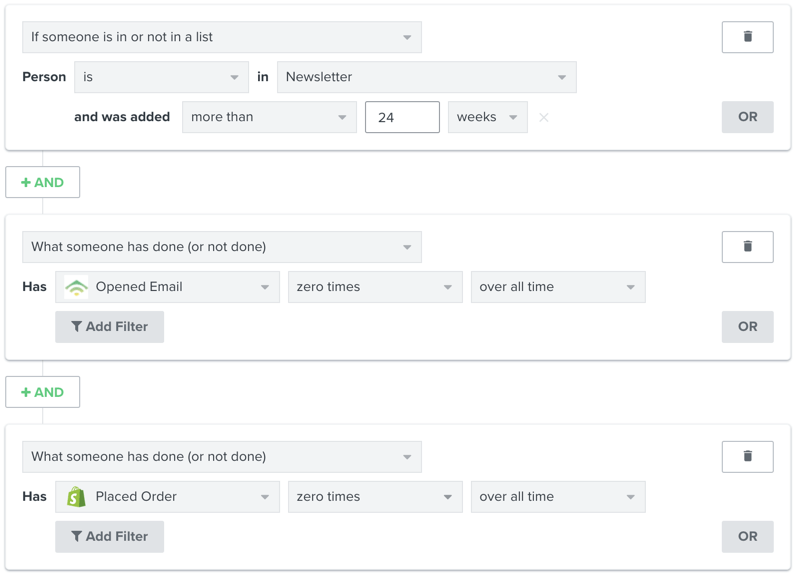 The settings above are for the general Dead Weight segment you should have. You should also create a more narrow version of the Dead Weight segment specifically to keep an eye on your giveaway responders. In that case, chance the first criteria from Newsletter to your giveaway list and consider reducing the 24-week window.
What to Expect with This Lead Gen Strategy
Funny, the beauty is of this strategy is not in the lead gen at all. It's the organic reach (aka earned media). Remember, whenever someone comments or shares your giveaway post, it exposes your brand to hundreds of people for free. Many of these people won't be interested in your giveaway, but some will check out your brand. And this results in direct sales. 
Keep that in mind. Keep an eye on your sales and traffic from people who haven't signed up for your giveaway. There'll be a lift there.
Back to the lead gen side of it, we've seen up to 25,000 leads for as low as $0.07 each. The ROI for this strategy will depend on your brand's average order value and how smart your initial giveaway offer is.
Lead gen video ad

Square version

Vertical version

3 post signup emails to drive engagement

3 conversion emails

2 retargeting ads

Audience segmentation in Klaviyo